Kettlenetics: I Gotta Have More KBell, Baby!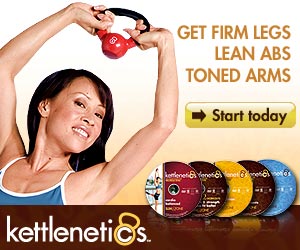 The infomercial for Kettlenetics sells a set of workout videos featuring trainer Michelle Khai. The centerpiece of the Kettlenetics exercise routine is a 4 pound kettlebell, which they refer to as a KBell. The URL of the Kettlenetics website is even www.GetKBells.com.
The Kettlenetics infomercial is pretty much a straightforward and dull fitness infomercial. I think they missed a real chance at a phenomenal celebrity endorsement. They should have hired Christopher Walken to endorse the product and say the lines, "I gotta have more KBell, baby!" and "I got a fever and the only prescription is more KBell."
For those who have no idea what I'm talking about, here is Christopher Walken in the famous (and hilarious) "Cowbell" sketch from Saturday Night Live:

Here, in contrast, is a clip from the boring Kettlenetics infomercial:

I think you will agree it could have been spiced up a lot with an endorsement from Christopher Walken!
Comments
6 Responses to "Kettlenetics: I Gotta Have More KBell, Baby!"

Comment by aimhire on August 1, 2008 at 1:12 pm

Comment by Jan on September 13, 2008 at 1:53 pm

Comment by Peter on January 22, 2009 at 9:08 am

Comment by Linette on March 20, 2009 at 7:31 am

Comment by John on May 17, 2009 at 9:30 am

Comment by jess on September 29, 2010 at 12:24 pm